I'm working on a showcase video for RavenDB this week, and part of my video creation process is creating a storyboard. It's nothing too fancy – just Google Slides with screencaps, rough diagrams, and placeholders for what the video will eventually contain.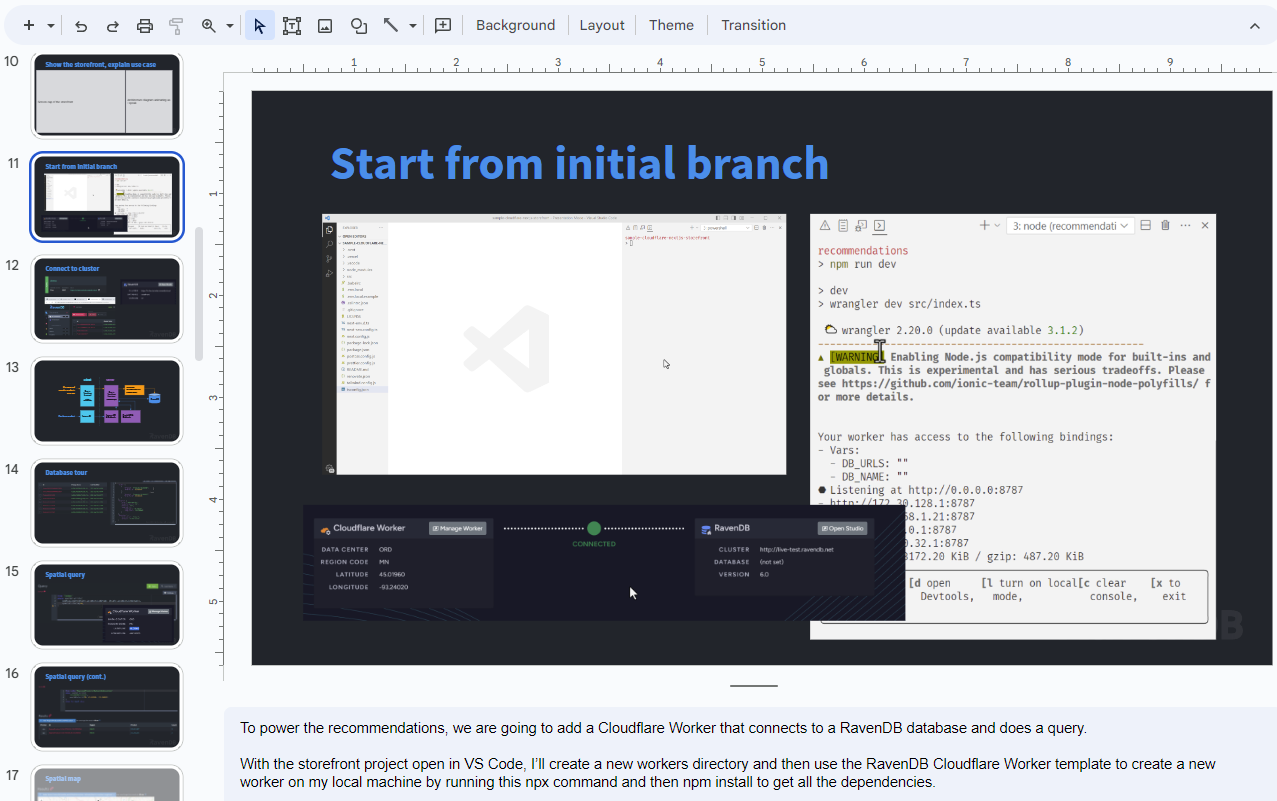 A storyboard is supposed to be rough because its purpose is to help you figure out the flow of the video before you sit down and do all the hard work of recording + editing (the other hard work of building the demo is usually already done, at least in my process). Like in software, it's basically like prototyping and creating an MVP. I also use it to script out what I'll eventually say – this helps me articulate exactly what I want and make sure the video covers what I need it to cover – and cut stuff for editing.
When I have a draft ready, I want to send it to my clients to review (I already shared what tool I use for that). I could have them review the Google Slides directly and leave comments (which is good for early-stage storyboarding), but at later stages, we need "rough cuts" with audio to really start to get a feel for the final video.
Here's where AI comes into play – I don't want to bother recording myself narrating the whole thing each time I want to do a rough cut. Recording anything for me is like preparing for a blood sacrifice – it involves making sure the house is quiet, I won't be interrupted, the AC isn't on full blast, and several incantations are performed on my PC to make it quieter. Plus, it's summer, so sometimes my kids are out, but other times they're at home. (This is why I am eager to make progress on my backyard office – or "garden room" to the zoning department 😏).
That's not the only reason this might be a boon for you – we had to cancel a podcast episode this week because the guest's throat was shot due to a cold. It reminds me of Microsoft's Inclusive Design toolkit "Persona Spectrum":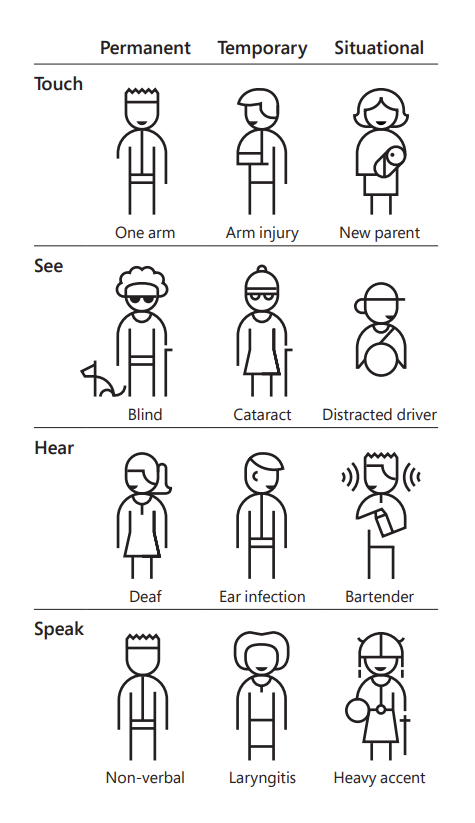 Having a sore throat during a cold is an example of a temporary speaking disability – these are all states of being we must care about as developers, designers, educators, marketers, and content creators.
So...
Enter ElevenLabs making its second appearance – featured in a previous Fundo Friday, where I gave it a test drive.
It turns out it really can work in practice and saved me a ton of time, and this was a 20-minute cut.
Since ElevenLabs takes batches of 5,000 characters, it took slicing the script into about five sections.

In Google Slides, I exported the presentation to a .txt file (yep), edited it in Notepad (uh huh), and then pasted each section into ElevenLabs to generate audio, using up a healthy portion of my monthly credits (sad tear). Frankly, I was surprised that Google Slides didn't have an easy option to export just the speaker notes (it exports the slide text too 🙄). Maybe I could use an AI tool for this piece too...
At any rate, do ya want to see a little clip? Yeah ya do.
If you made it this far, you're a
lovely

person!
👀 Continue reading this with a free subscription
Already have an account? Sign in.
Fundo Friday: Using an AI voice to narrate a rough-cut video
Ditch content that doesn't convert.
Hi 👋 I'm Kamran. I help B2B tech companies fix low conversion rates with open source lead magnets so they can attract and activate more developers that use their products.
jamie@example.com
Sign up