Your developer-facing content isn't leading to signups or demo bookings.
You've followed the B2B marketing playbook and dutifully created blog posts, articles, product videos, eBooks, whitepapers, and case studies. You're successfully driving traffic to your assets but they STILL fall flat with your technical audience. Those darn developers!
Sometimes you look up and scream into the night:
"Why won't they enter their real email address into our leadgen forms?!"
"Why won't they download my gated content?!"
"Why won't they leave a comment... or four?!"
"Why won't they book a call with our amazing SDRs?!"
"We wrote the 400 blog posts, where are the results?!"
Basically, you don't have a traffic problem; you've got a conversion problem.
What if developers not only engaged with your content, but actively shared it?


Would it blow your mind to see double-digit conversion rates?
What if you knew exactly which companies were trying out your product?
Wait. Is it even possible that developers could...
love
your content?
What would that mean for your growth?
Attract and activate more developers with open source lead magnets.
Open source lead magnets are assets like templates, on-demand video, live tutorials, interactive demos, and toolkits, which developers can explore at their own pace – leading to higher conversion rates and higher engagement. By leveraging open source platforms like GitHub, you not only get richer data about your audience, but you also increase reach, discoverability, and community participation.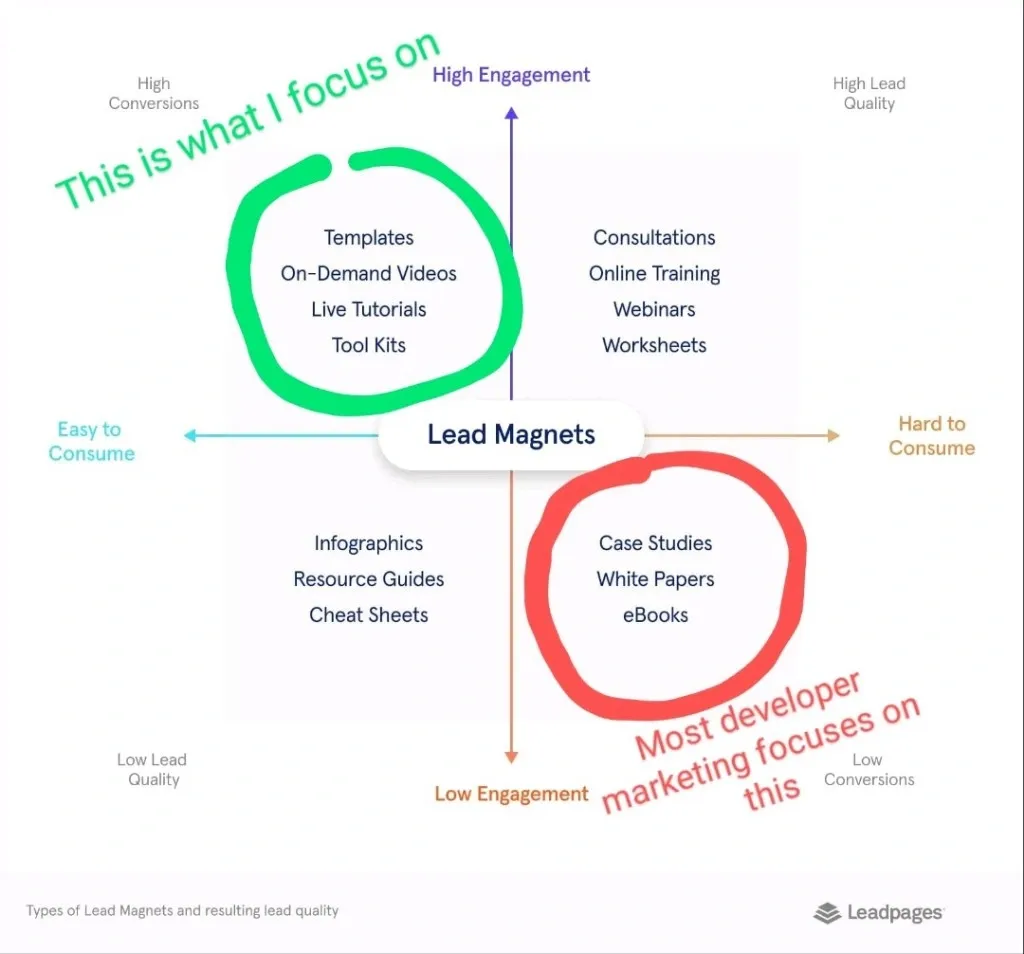 High-conversion, high-engagement developer marketing in all forms requires both the technical expertise and the communication skills to explain complex concepts in compelling terms for your audience. That's hard to come by, reliably.
Get help from a seasoned software architect and developer educator.
With over 20 years in IT as a practitioner and tech trainer, I can be your technical marketing partner to help you get better results with your developer-facing lead magnets.
What to Expect
Here's how I typically engage with new clients:
You schedule a free initial consult, and we go over your situation.
I ask a lot of questions. Like, a lot.
If I think an open source lead magnet is the right solution, we begin with a fixed-fee discovery project. This allows us to test the waters, provides a fixed scope/duration, and de-risks the implementation phase.
I help you form a strategy and plan to solve your conversion issues. My process involves audience research, speaking to leadership / SMEs, speaking to customers, and a 2-day design workshop.
This may take between 2-6 weeks, depending on availability and scheduling.
By the end, you'll know exactly what needs to be done, how to do it, and who's doing it.
Ready to ditch that low-conversion content? Click the button below to schedule your free initial call.
I promise not to get "sales-y." If I don't think it's a good fit, I'll try to refer you to folks who might be better positioned to help you.
---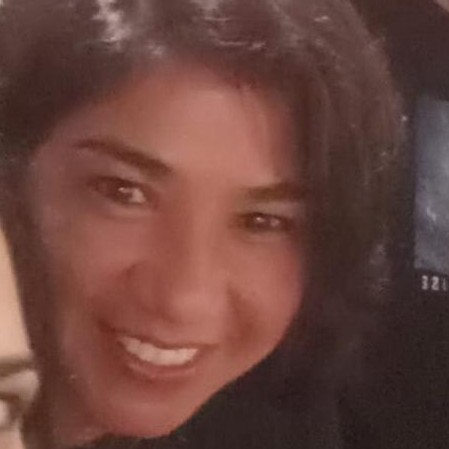 "No one in our company could provide such high-quality content, presentations, and videos."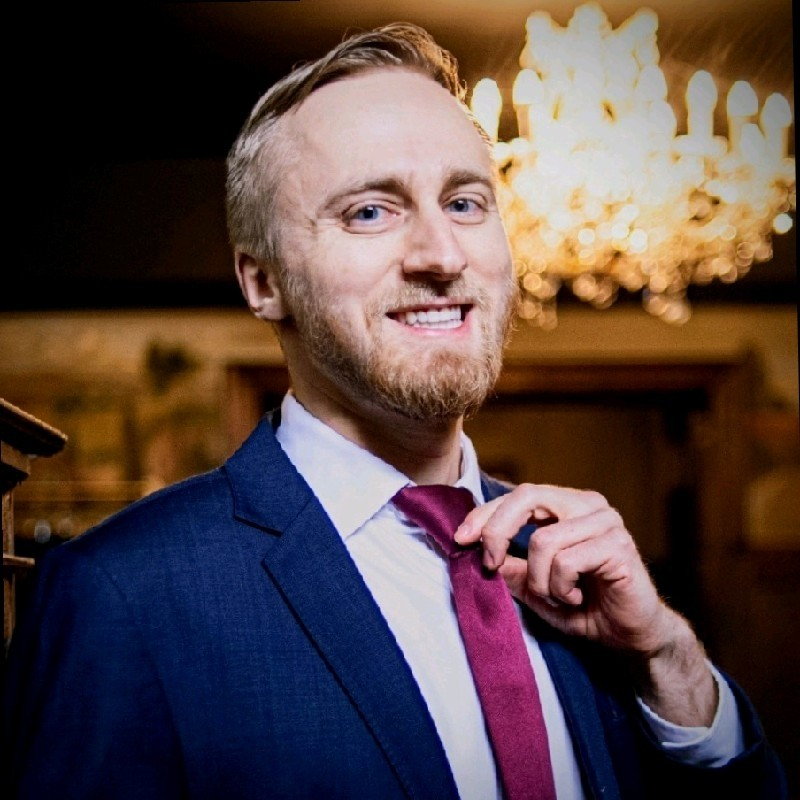 "Kamran ranks among the top in terms of his commitment to educating and leveling up his peers."
---
Still not sure?
No problem, here are some ways to stay in touch with me async.
Subscribe to the blog
I send occasional emails during the week on what I'm learning about DevRel to help dev tool leaders remove barriers to adoption.
---
Listen to experts share how education drives growth
Every other week, I sit down and chat with world-class educators and developer content creators to share strategies and tactics on how to grow your dev tool through exceptional developer experience & education.
Listen to the DevEducate podcast »
---
Featured Media
Hi, I'm Kamran 👋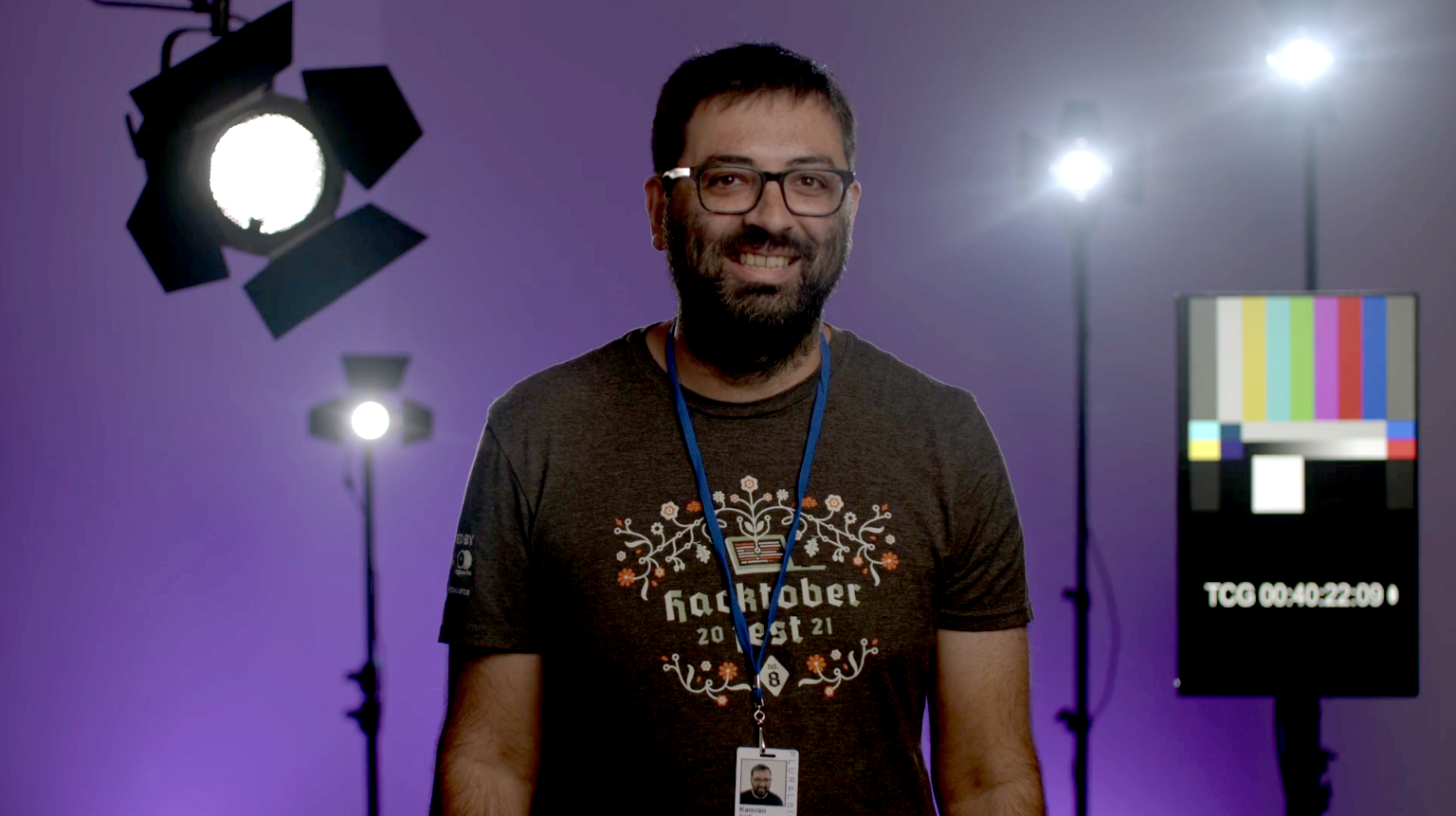 👋
I work with dev tools to remove barriers to adoption because
my mission is to help reduce Net Developer Frustration in the world
.
I host the
DevEducate podcast
and have a
newsletter
on developer onboarding which has been featured in the Developer Avocados Weekly and DevRel Weekly newsletters. 🥑🍏
I've
upskilled over 12,000+ professional developers
through my Pluralsight
video training
on DevTools like React, Cypress, Ionic Framework, Gatsby.js, and GitHub. My Microsoft Azure courses were part of the AZ-204 certification learning path.
I used to build and design enterprise developer tools and was a tech lead on developer experience & enablement teams scaling million-visitor brand websites at Fortune 500 companies like Target and General Mills. My contributions have not only
increased developer satisfaction
but also
increased the speed to market
for both internal enterprise apps and consumer-facing product experiences. I once won the
Moonshot Award
during Target's Innovation Week where I led a team that proposed a bet-the-business innovation to Target stores. I'd tell you what it was but I'd have to kill you.
I've shipped 9 web games on the side
. One of the
games
was the #1 web game in the Ludum Dare 31 Game Jam and made it into the top 2% overall. Not bad for 72 hours.
I love to teach developers and I routinely
speak
at international conferences like
React Summit
and
NDC
on technology topics. But, fun fact: my top-rated talk that I give multiple times per year is actually my personal finance talk where I teach developers how to manage their money better.
I'm a dork, I love RPGs and home DIY, and I live in Minnesota where I work when it's cold out and take summers off with my kids for the 3 months it lasts.
Learn more about me »