Want to accelerate adoption for your developer tool or service?
Do you wish you could win over Fortune 500 companies?
Get bigger customers that drive further adoption. Imagine starting off with warmer leads and getting more buy-in from big enterprises to accelerate sales cycles.
Are you struggling to communicate your value proposition to buyers and developers?
Your value proposition deserves to be understood. Imagine being able to increase trust and confidence with technical prospects during sales calls or demos. Imagine developers clearly understanding how your product will help them eliminate pain.
Do you feel like your content is bland and flavorless?
Delete that enterprise bug tracker sample (unless you're a bug company). Instead of run-of-the-mill developer marketing and education, imagine infusing your content with storytelling that incorporates your brand strategy and positioning that delights developers so they share your content more widely with their peers.
Are developers abandoning your product onboarding?
They could be dropping off because it's hard to learn. Imagine having an oboarding experience that doesn't frustrate developers, removes friction and engages them so they continue to convert.
Do you wish you had a self-sustaining community?
Sorry, that's really hard – but imagine if developers were peer-experts and could help each other, allowing you to spend less time answering community support questions.
Do you wish your team had the skills to create videos and courses?
They're more skilled than you think – but they might need some help. Imagine upskilling your teams to create video-based courses and content that will increase engagement and spread awareness.
Imagine impressing big companies.

What would it mean for your business if you landed that Fortune 500 company?
Let's chat
You don't have to imagine, here's a mini case-study from one of my clients:
🤝
Client: B2B Database Services Company

Challenge:
The client was having a hard time explaining their value proposition to developers and economic buyers because people kept comparing the product to the competition. Nobody understood their product.

Content marketing efforts were not generating enough leads. They had a small team and felt overwhelmed with the amount of content they'd need to create.

Sales cycles were taking long as customers weren't confident in the solutions and needed extra warming up. The content wasn't resonating and activities were un-focused.

Developers weren't contributing to the open source ecosystem around the product and community participation was low.

The most effective activities were high-touch 1:1 or group interactions such as webinars, conference booths, and demo calls that required extended conversations.

Approach:
I started with a clarity workshop with the C-suite to understand the challenges the business faced and to understand the overall business strategy for growth in the next year. Next, I met with various SMEs across the organization to map out the different business and technical benefits of each feature to understand which ones were most important for their ideal buyers and developer personas. Together, both leaders and SMEs came together to make sure they all understood the total value proposition both in business and technical terms.

After these workshops, I helped the marketing & sales team develop a content strategy and roadmap for no more than 20 activities spread across marketing & sales that would better educate customers and developers on the product. These activities would assist with driving sales-led growth, developer-led growth, and product-led growth initiatives across their cloud and enterprise on-premise offerings.

Business Results:
After 2 months of working with me:

💚 The CEO & VP of Sales now consistently gets compliments from Fortune 500 companies during sales calls increasing trust and confidence with customers and prospects.
💚 The VP of Marketing finally had marketing materials she understood clearly and was proud of.
💚 Their conference booth at major industry conferences like QCon now generates more leads compared to other booths.
Let me help you win over big customers too

I am a developer content strategist, educator, and growth consultant. I specialize in helping B2B and open source companies accelerate product adoption.

With a background in enterprise development and business leadership, I bring my clients specialized knowledge in how to sell to big companies and their developer teams.
Let's chat
What do I help with?
Depending on your situation, I offer tailored advisory and strategic consulting for things like:
Gaining clarity across leadership and SMEs on your value proposition and positioning
Providing sales enablement and advice for enterprise Fortune 500 clients
Tailoring a content strategy to your business and planning connected learning experiences
Developing your buyer or developer personas so you can understand your audiences at a deeper level
Understanding industry trends and how they might affect your developer marketing strategy
Setting up attribution tracking across your content mix and integrate with your CRM
Providing objective advice on buying multiple platforms or building custom solutions instead of hawking a specific vendor
Incorporating your brand strategy and positioning into your developer content
Finding and sourcing expert content creators in specialized technologies
Mentoring and coaching your team 1:1 or in workshops for designing and developing video-based content and other learning experiences
Teaching your team production methods like recording, video and audio editing
Get access to someone who understands educating technical audiences with an enterprise background
I have been in the professional developer education space creating video-based courses at Pluralsight for over 7 years on a wide variety of technologies and speak at international conferences like NDC. I'm also an open source maintainer and contributor.
I have a business background which helps me bridge the gap between non-technical and technical folks in your organization. I have previously led teams at Fortune 500 companies like Target and General Mills upskilling developers through coaching, mentoring, internal talks, workshops, training, and documentation. I have experience presenting to senior leaders and winning internal pitch competitions.
I've evaluated vendor solutions and have been a decision maker in choosing those solutions – I understand the challenges you face when selling to big companies because I have been on the other side (and made it out alive).
Are you ready to get started?
If you're ready to accelerate your product adoption, shoot me an email or book a call today and let's chat about your situation.
Questions in the Back of Your Mind
Any questions you have might be answered below:
What happens next?
You book a 40-60 minute call. If at the end of the call I think my services are a fit for your situation, I will send you a three-option proposal that should fit your budget.
How much do you charge?
All my work has fixed prices so you know exactly what the investment will be. To help with your budgeting, my clients typically spend around $10k per month on my services.
Who do you work with?
The clients I commonly work with are ones that:
Are B2B-focused and want to do more B2D
Have less than 5 full-time developer advocates
Describe their developer education as not chef-kissingly awesome
Don't feel like they have expertise at video or audio production services
Freakin' love developers and open source
I am also a fit for clients who:
Believe in education as marketing
Believe in the power of the developer community
Believe that experimentation leads to better results
Believe in storytelling and brand marketing
Do you work with certain types of software companies?
I tend to work with clients that deal in the modern web and cloud-native space. If you maintain APIs and SDKs written for the web, Node.js, or .NET and customers deploy to places like Azure, AWS, and GCP – I will be at home. If you don't, I'll be coming in with an even fresher outsider perspective.
My business is complex, have you dealt with that?
Would you say enterprises are complex? It is exactly my role to take complexity and distill it down to something simpler. I work with sales-led, product-led, developer-led, and community-led growth companies, sometimes they are pursuing 2-3 growth strategies simultaneously, such as a database services company that sells both their DBaaS cloud solution and enterprise on-prem solutions.
---
Why does my approach work?
Education unlocks growth
Look around. Notice all the new developer hubs, universities and academies filled with lovely learning content? There's a reason. They drive results.
Developers freakin' love to learn.
The industry is already proving that.
Progress shared that Learn Chef university is their top lead generator
Redis shared that Redis University produces highly-qualified leads
MongoDB shared that 15% of their revenue is derived from leads whose first touch was MongoDB University
Vercel shared that their interactive product tour increased leads and demo bookings
Google shared that their Cloud Skills Boost education program leads to higher product adoption
And on and on it goes
Developers want better education and access to learning resources so they can quickly get up-to-speed.
When you say it out loud, doesn't that sound obvious?
Here's the secret: Developers don't care about your product. Not really. They care about what your product allows them to accomplish. When you can connect what your product does to what it helps them achieve in their day-to-day context and then upskill them, well, you've just cooked up some magic sauce. It builds trust, it builds authority, it creates brand loyalty.
Putting education first in your developer marketing strategy will:
Increase developer, marketing, or sales qualified leads with registered signups, progress tracking, and certifications that targets current or adjacent technology-savvy audiences
Drive awareness through brand marketing and social learning that lets learners learn together in cohorts or discussion groups, share progress, certifications, achievements, and badges
Increase trust and confidence with prospective customers through thought leadership and pre-sales learning experiences
Increase community participation through open source lead magnets and upskilling existing or adjacent developer audiences to become peer-experts and help each other
Improve free-to-paid developer conversion by removing friction and frustrating or confusing moments during the onboarding journey
Measure program success with data by collecting metrics and insights into a developer's learning journey
When you target the larger problems developers deal with (where N+1 is actually good) and how your product helps solve those problems you supercharge your developer adoption.
Right now you're probably relying on everyone else to cook up educational meals for you – but you can't control the taste (and you don't get the insights).
Your Buyers and Developers Are Learning at Every Stage
Learning happens at every stage of the buying journey:
You will need to teach developers and prospects what your value proposition is so they can understand if your product is relevant to them
You will need to teach developers and prospects whether your product will work in their situation and meet their needs
You will need to teach developers how to get to Hello World, prototype with a POC, and build MVPs so they can tell decision makers that your product actually works for their needs
You will need to teach developers how to scale successfully and become experts in your product so decision makers have increased confidence that you can support them
You probably use pitch decks, docs, samples, tutorials, how-tos, courses, demos, roadmaps, use cases, case studies, talks, webinars, workshops – and so many more ways to teach developers about your product. Every single one of these is a learning experience.
If any of these cause friction, it's a chance for developers to abandon learning about your product and jump to a competitor. If any of these are forgettable, no one will come back. You will be stuck creating "more content" just because.
Why Work With Me?
An agency or even your own advocates can help increase adoption, so why hire me?
tl;dr

My background in technology education, enterprise application development, and business leadership gives me insight into how to help you educate and sell your product to leaders and developers in big companies. I go beyond solely focusing on marketing and help you across functions.
Okay, here's the long version...
Get direct access to someone who specializes in educating technologists. I work across marketing, sales, and engineering. I help to bridge the gap between what you believe is awesome about your product and translating that for developers or economic buyers.
I am a regular Pluralsight author. I've spent 1000+ hours creating technical content and education for technologists. My five-star 🌟 professional training courses on modern web and cloud-native technologies have reached over 12,000+ individual learners.
I speak at regional and national conferences (e.g. NDC, MDC, MidwestJS) giving talks on topics like React, TypeScript, open source, as well as internal talks and workshops at companies like Target and General Mills.
I have a business background in Management Information Systems (MIS) which helps me bridge the gap between non-technical and technical folks in your organization.
I have worked in open source as a maintainer and contributor for over 20 years. The open source model is something I'm intimately familiar with, I understand the value of community-led growth, I've been on open source committees within companies, and I actively maintain and provide pro-bono services to Excalibur.js, a web-based game engine. That's why most of my work even for paid courses is open source.
I have specialized knowledge in gamification and game design – I've designed and shipped 9 games with small teams (all in less than 72 hours) and we routinely get high placement in game competitions. I can help you infuse your positioning, messaging, and brand strategy in creative ways into your learning experiences.
Prior to consulting, I spent my engineering career working at Fortune 500 companies building modern web experiences across the stack for massive consumer-facing websites like Target.com, BettyCrocker.com, and Pillsbury.com. I've won innovation awards during internal events where I had to pitch to C-suite and senior leaders.
I've personally vetted and helped teams adopt B2B SaaS and developer tooling products. You should see the decision matrix I used – it was lit. But I've sat alongside solution engineers and understand the long and grueling sales cycles enterprises have, as well as how decisions are made internally in big companies.
There, I think that's all I've got.
I don't want you to lose another Fortune 500 customer. If you got this far, we should really chat.
---
Who Am I Anyway?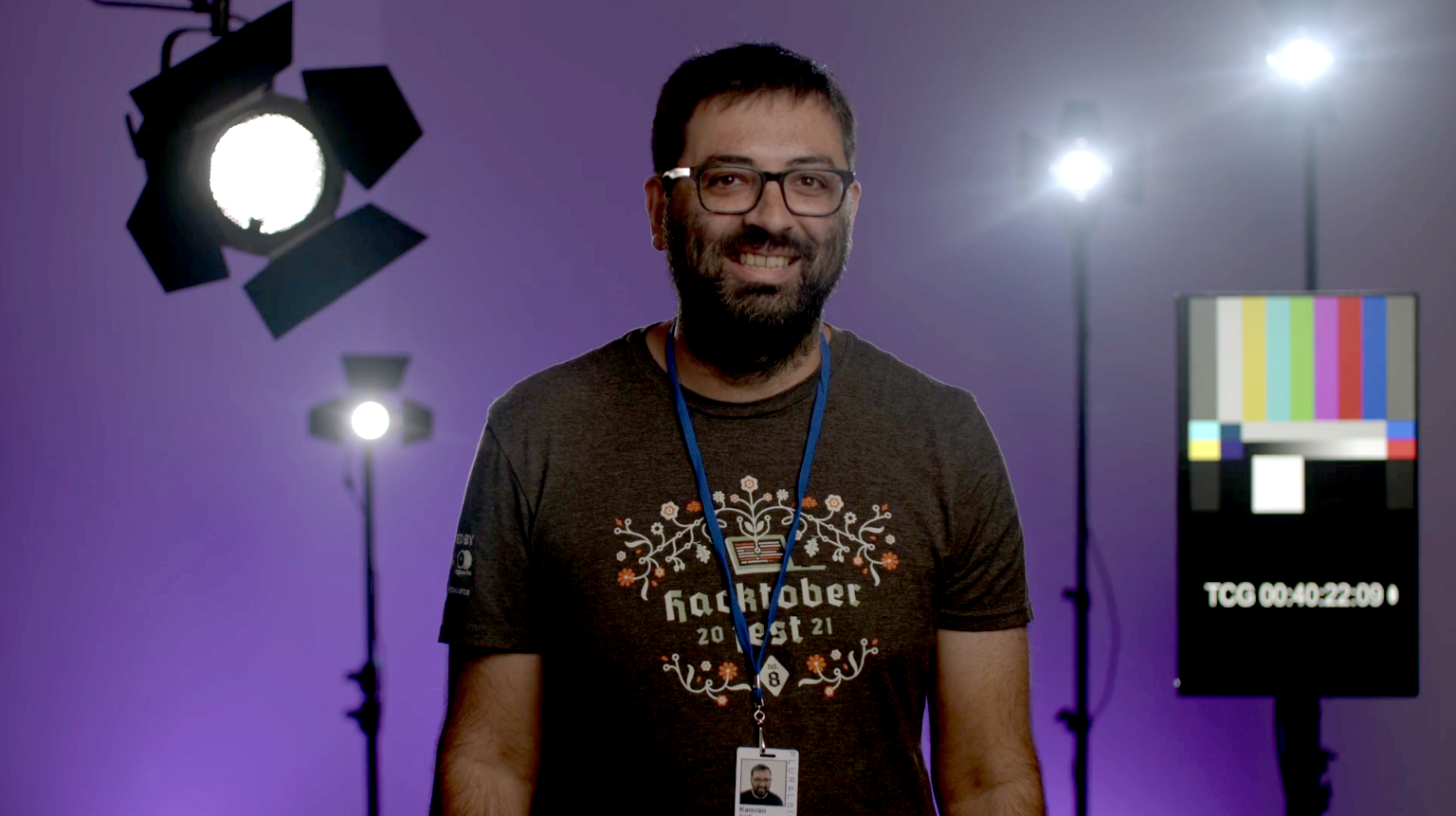 👋
I'm Kamran! I am a developer content strategist, educator, and growth consultant. I specialize in helping B2B and open source companies win over enterprises and their developers to accelerate product adoption.

Through my educational efforts, I'm on a quest to upskill a chef in every DevRel kitchen. My mission is to make it easy for anyone to create gourmet developer education – content that's bursting with the most important flavor of all – love.